Why is software outsourcing essential today? Well, in-house software development is excellent since it helps businesses to create and deliver the precise solution they need. But as history has shown, software development takes time, skill, and a sizable budget. In most cases, one of these aspects creates a blocking barrier for in-house initiatives.
Fortunately, software development outsourcing is a service that may help you achieve your goal within a short timeline and on a limited budget.
How Does Outsourcing Work?
Software development outsourcing refers to an arrangement in which a company hires an outsourced software development firm. And the outsourced development firm completes all or delegated tasks of a software development project more effectively. In other words, the customer company hands over control of a development project to a third-party vendor. And the vendor is more competent in performing the necessary development tasks.
Software application development was the most frequently outsourced IT function, as per 64 percent of those surveyed in Statista's research on "IT functions outsourced globally 2017," which polled CIOs worldwide. Indeed, software outsourcing is a significant factor in the worldwide IT outsourcing industry's ongoing expansion.
As a result of these high figures, the demand for software outsourcing will continue to grow as businesses seek to digitize and optimize their business operations as part of their digital transformation.
What Is the Importance of Software Outsourcing?
Outsourcing is cost-effective, and offshore software outsourcing, in particular, helps reduce development costs. And this leads to reduced market pricing and more competitiveness. According to a recent study, businesses have begun to turn to software outsourcing to accomplish a range of business goals beyond cost savings in recent years.
IT decision-makers and company owners are increasingly using outsourcing to make their organizations simpler and more efficient. Companies that delegate can concentrate on their critical aspects, keeping their long-term strategic goals on track.
Outsourcing Services for Software Development
Web and mobile application development are well-known outsourcing services. And we can compare this to other advanced and innovative technologies like Cloud computing, AI, and Robotic Process Automation. These sectors are gaining traction in the industry and are predicted to impact the future significantly.
Moreover, many software outsourcing vendors present a promising portfolio of services that adapt to customers' businesses. And they fulfill a wide range of their specific business requirements at any stage of their initiatives and throughout the development cycle.
With software outsourcing, services are provided through remote operation models. And this allows customers and businesses to collaborate with top IT professionals from across the globe committed to their projects.
What are the Different Software Outsourcing Models?
Businesses may outsource their software projects to vendors worldwide in many ways, with development centers located onshore, offshore, or near-shore. Let's have a look at the specifics:
1) Onshore Software Outsourcing
Onshore outsourcing is the practice of client businesses collaborating with software development teams based in the same country. Onshore outsourcing has the benefit of essentially eliminating language barriers, making communication more manageable. As a result, outsourcing is more successful. But customers may have to pay extra for development expenses as a result.
2) Offshore Software Outsourcing
Working with development teams in other countries is referred to as offshore outsourcing. And because of affordable labor costs and online communication methods (e.g., email, VoIP phones, Zoom video conferencing, etc.), this is the most cost-effective alternative for managing software projects remotely.
3) Nearshore Software Outsourcing: 
Nearshore outsourcing firms serve customers in neighboring countries.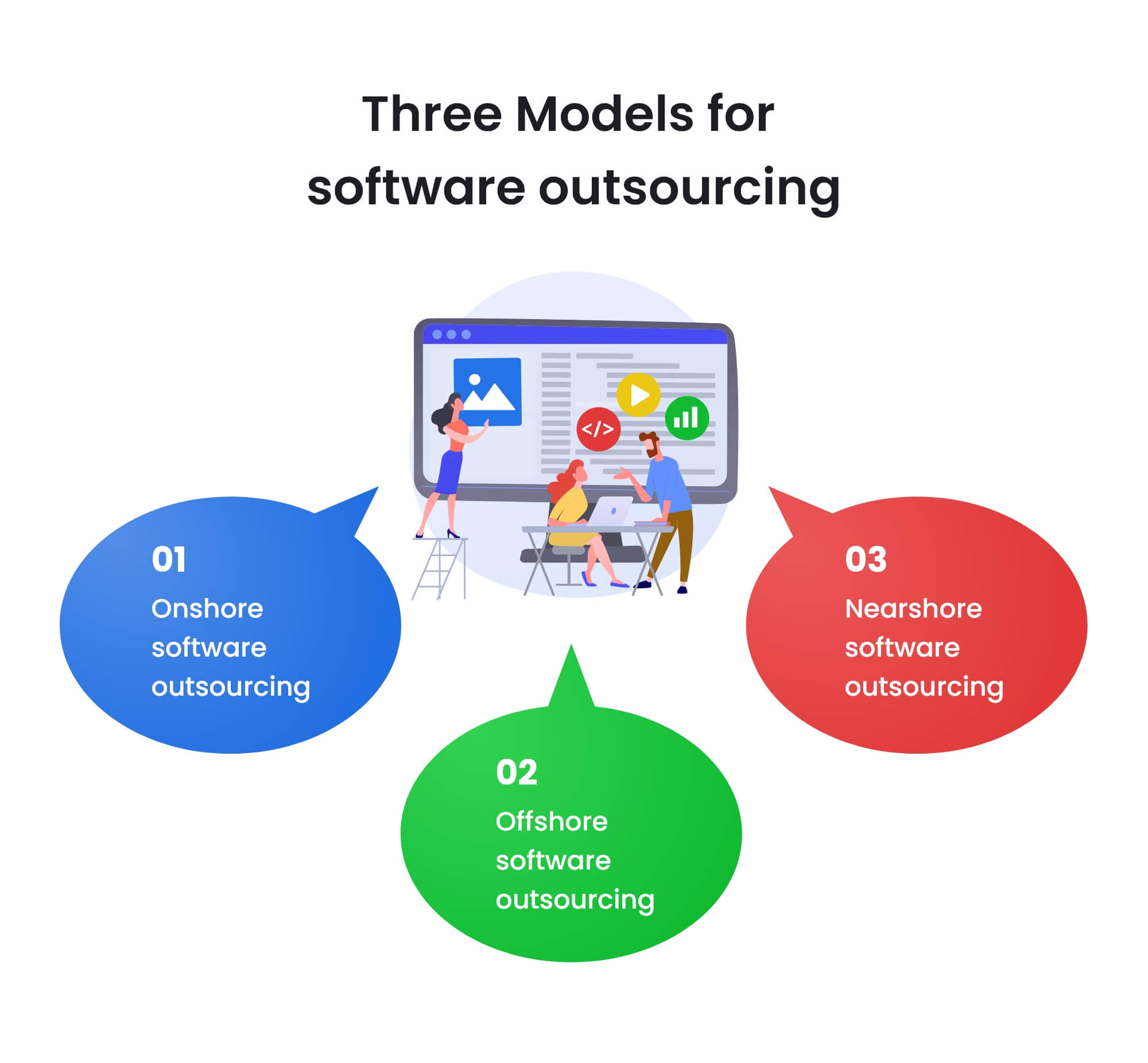 The Benefits of Outsourcing Software Development
In general, outsourcing software development allows businesses to:
Solve the problems of lowering overhead costs
Quickly assembling a remote tech team
Shortening the time it takes for a product to reach the market
The following are some of the appealing advantages of outsourcing software development:
1) Cut development costs and save money on overhead
Customer companies outsource development projects for various reasons, the most frequent of which is to save money on development expenses. They may develop and scale their businesses efficiently and keep up with market demand by sticking to a budget and keeping to it. Consequently, the top advantage of outsourcing software development for companies is cost savings.
Furthermore, by outsourcing work to a third party, businesses may save money on labor expenses, including leave, insurance, and training, while paying outsourced teams at a reasonable rate.
2) Flexibility
Customers may work with software outsourcing firms just when and if they need it. There is no legal need to maintain a long-term contract, unlike permanent employment. And this allows clients the option to pay only for the outsourced project work. And this is particularly beneficial when compared to employing full-time in-house developers all year, whose knowledge may not be required as much once the project is over.
Moreover, cloud computing technology has made it simpler than ever for individuals to work from home or any place at any time. And this paves the way for remote work to become the norm. Human-machine interaction, rather than micro-human management, is becoming more significant in remote offshore work.
3) Increase Profits with a Targeted Strategy
Partnering with a remote development team offers new possibilities as businesses are exposed to various new, evolving, and revolutionary technologies. Examples of such advanced technologies are blockchain, AI, and others, which may help transmit knowledge and best practices to internal teams successfully.
Clients may quickly access a pool of IT expertise on a broad scale. And this allows them to complete projects more effectively while focusing on their core strengths. Suppose the client company is not in the IT sector. In that case, this provides substantial advantages since it enables workers to invest more time in other revenue-generating activities, such as sales and marketing. And this results in increased business growth and productivity.
4) Shortening product development time and decreasing time to market
There is no need for additional time spent on training and onboarding since the outsourced workforce is already skilled. Also, the outsourced team is well-versed in the technologies and tools needed for the development process. So, clients can save a considerable amount of time and speed up the development process. And this is particularly useful in the setting of big companies. The decision-making and approval process may take much longer than usual in multinational company processes.
The Drawbacks of Software Outsourcing
Outsourcing may fail to meet quality requirements, create language/cultural barriers, and pose security concerns. But you can surely avoid these drawbacks by hiring a reputable software development firm with extensive expertise in the field
How can you successfully outsource software development?
When it comes to software outsourcing, a variety of factors affect the probability of success. Among these, there are a few things that businesses should bear in mind, including:
Establish explicit outsourcing objectives
Participate in project management and work with virtual teams
Keep your expectations realistic
To give feedback, set goals, and monitor progress regularly
Remarkable Example of Successful Software Outsourcing
The corporations listed below are some of the most successful outsourcing case studies. Please look at how they use remote teams to expand their companies and outpace rivals in the worldwide market.
WhatsApp: The most popular messaging app, which outranks Facebook Messenger with 1.3 billion users and WeChat with 1.1 billion, outsourced its core development, particularly iOS development.
Skype: Did you know that the creators of Skype outsourced the platform's back-end development to Estonian experts in 2003? These experts are accountable for everything we know and enjoy today.
Alibaba: When businesses began to utilize websites for customer interaction, Jack Ma founded this Chinese global eCommerce technology company in 1999. The company hired American developers to build a website that would appeal to domestic and foreign consumers, primarily English-speaking nations.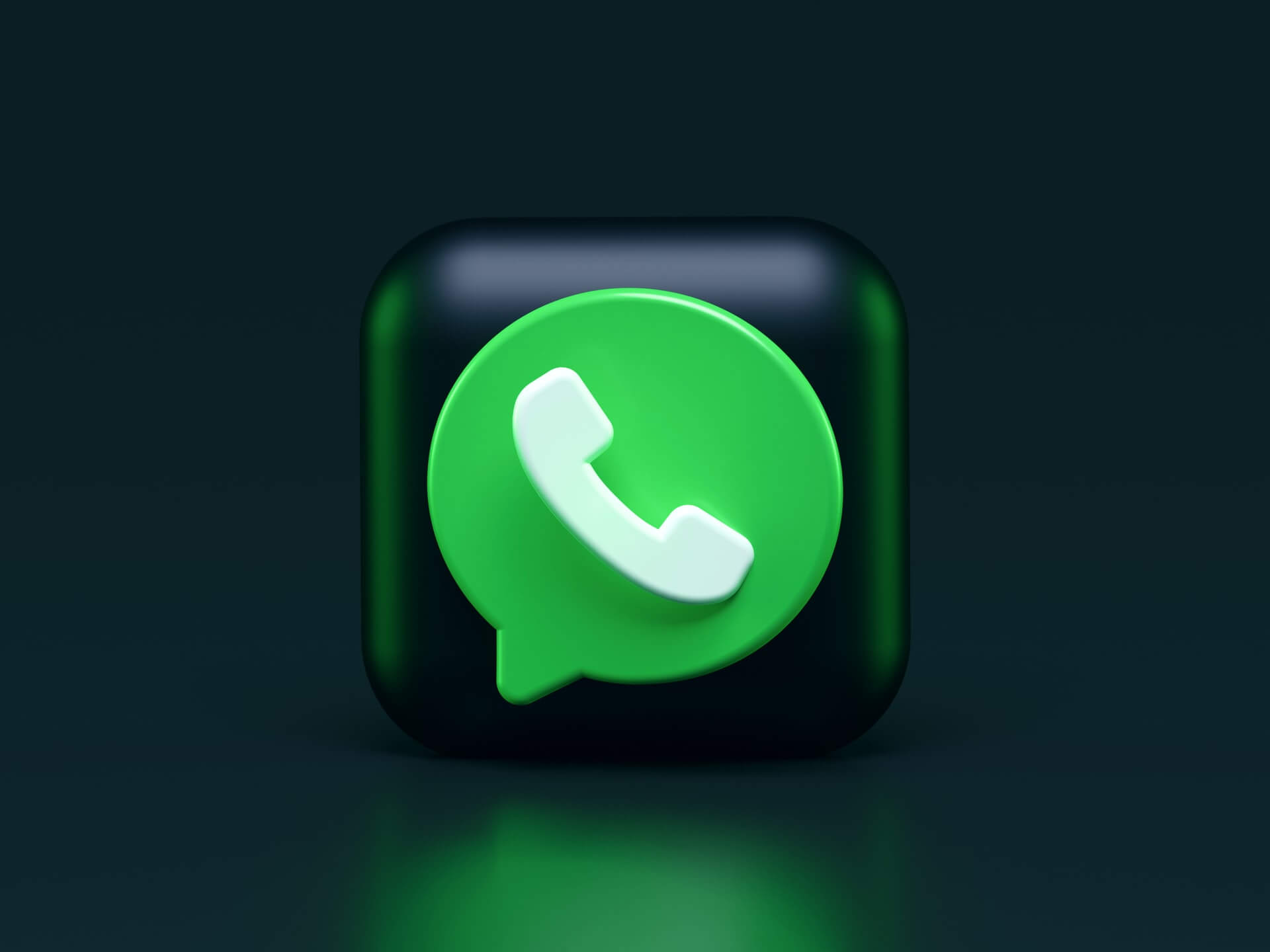 Why Choose Treinetic for Software Outsourcing?
Treinetic is an award-winning software product engineering company with extensive software development expertise. Our team is committed to delivering best-in-class software outsourcing services for a wide range of customer requirements. And we aim to produce the finest and highest value to our customers through our service outsourcing array of services.
We aim to assist you in determining how beneficial software outsourcing can be for your company and how we can help you get there. Please use the Contact Form to get in touch with us right away.