How much does it cost to develop an app? And this may be one of the first things app brands and developers ask when starting a new app development project. The app development estimated cost is a prime factor to consider business-wise.
In general, business owners answer two questions: how much does it cost to hire a professional to create an app for my business? And how much does it cost to develop an app on my own? But handing over the development project to experts remains the best choice, as you are not an expert in app development. Also, you have to invest time in day-to-day business operations.
How Much Does it Cost to Build an App?
Last year, there were about 204 billion mobile app downloads, according to Statista. When you consider how deeply smartphones have touched our daily lives, the figure isn't that shocking.
People spend an average of three hours and fifteen minutes each day on their smartphones. And the top 20% of smartphone owners spend up to four and a half hours. This app development revolution continues to thrive, and apps are your ticket to the driver's seat if you want to take your company to the next level.
An app development cost breakdown looks like this:
App functionality and purpose: What an app can and will accomplish for its users.
Supported mobile platforms and devices: The fact that you develop an app only for iOS or an Android version. What devices will it be able to support? For example, the iPhone 12, the iPhone 12 Mini, the Samsung Galaxy S10 Plus, etc.
Points of integration: Will an app be connected with third-party applications that will provide content?
The use of visual items: The complexity of visual elements inside an app impacts the cost.
Use of smartphone hardware features: Whether an app will use features and capabilities such as motion co-processors, Augmented Reality technology, GPS navigation, NFC technology, and other technologies found on smartphones and tablets.
Maintenance strategy: After the completion of an app development project, the developer will likely need technical assistance.
Factors Influencing the Cost of App Development
Many factors determine the cost of developing an app, including:
1. Business Mode
In a rapidly changing marketplace where we accept many mobile apps daily, having a business model for mobile app development is critical. And it ultimately plays a pivotal role in deciding the cost of developing an app. Before calculating the typical cost of developing an app, you must first consider how it will fit into your entire business strategy.
2. Application Type
It's one thing to have a fantastic concept for a product or service, but it's quite another to make it available to mobile consumers.
Following creating a solid business model, you will encounter different technologies that your mobile app development team will need to study for the project. Based on its degree of sophistication, an app may be classified as follows:
App for the Web
It is not a mobile app but rather a mobile version of a website. The mobile-friendliness concept employs responsive design to provide a seamless user experience across various screen sizes – from tablets to smartphones.
Native Application
So many applications aim to strike a fine blend between good user experience and performance. And they are written in languages native to the operating systems of a given device, such as Android and iOS. Native apps for Android devices are developed using Java or Kotlin, while Swift and Objective-C are used for iOS devices. Native apps are the most complicated. But they run well since they are developed and optimized for a particular platform.
Cross-Platform/Hybrid Apps
Because it is developed using a mix of web and native technology, cross-platform methods are most suited to meeting the requirements of a broad audience. In comparison to alternative methods, the development and maintenance expenses are minimal. Nonetheless, due to restricted access to smartphone technology compared to native applications, they are not regarded as the greatest in terms of functionality. They operate well on all operating systems, including iOS, Android, and Windows.
3. The platform
It is critical to use a Stair-Step Approach, in which a lengthy, successful journey starts with a single, smaller step, such as building an app. Without a doubt, the best strategy seems to be to develop an app for both platforms simultaneously. But this proved to be an effective and challenging strategy. For example, after debuting on iOS in 2010, Instagram became accessible to Android users four years later, in 2014.
4. Functionality
Evaluating the cost of developing an app is similar to building a house. With the addition of additional features, the basic price for the kind of app you plan to create continues to rise. With the advancement of mobile applications, there is almost no limit to what an app can accomplish. So, there is no fixed cost; it may vary from a few hundred dollars to a few million dollars.
5. Design and Development
We have covered several parameters that are important drivers of app development costs. But another important element in deciding the cost of developing an app is – who you employ!
App Development Agency vs. Freelancers
Freelancers and agencies are the two major kinds of contractors that may develop an app for you.
If you opt to hire freelancers to create an app, you will get the following benefits:
Low-cost app development
Only constant contact with the developer
Simultaneously, evaluate the risks:
The need to locate freelancers for all necessary services
The quality of software development standards cannot be guaranteed
Inadequate accountability and transparency
You have team management on your side
Additional documentation
On the other hand, professional app development requires collaboration and individuals who are used to working on the same project. Working with a bespoke software development firm like us will provide you with the following advantages:
Trustworthy relations
Deliverables of high quality
All required services are available in one place
Discipline and time management
Project administration
Accountability
Working with app development firms has a few drawbacks, such as higher rates than freelancers.
Despite paying more money and dealing with more paperwork, app development companies generally provide a feeling of security and trust that is well worth the expense.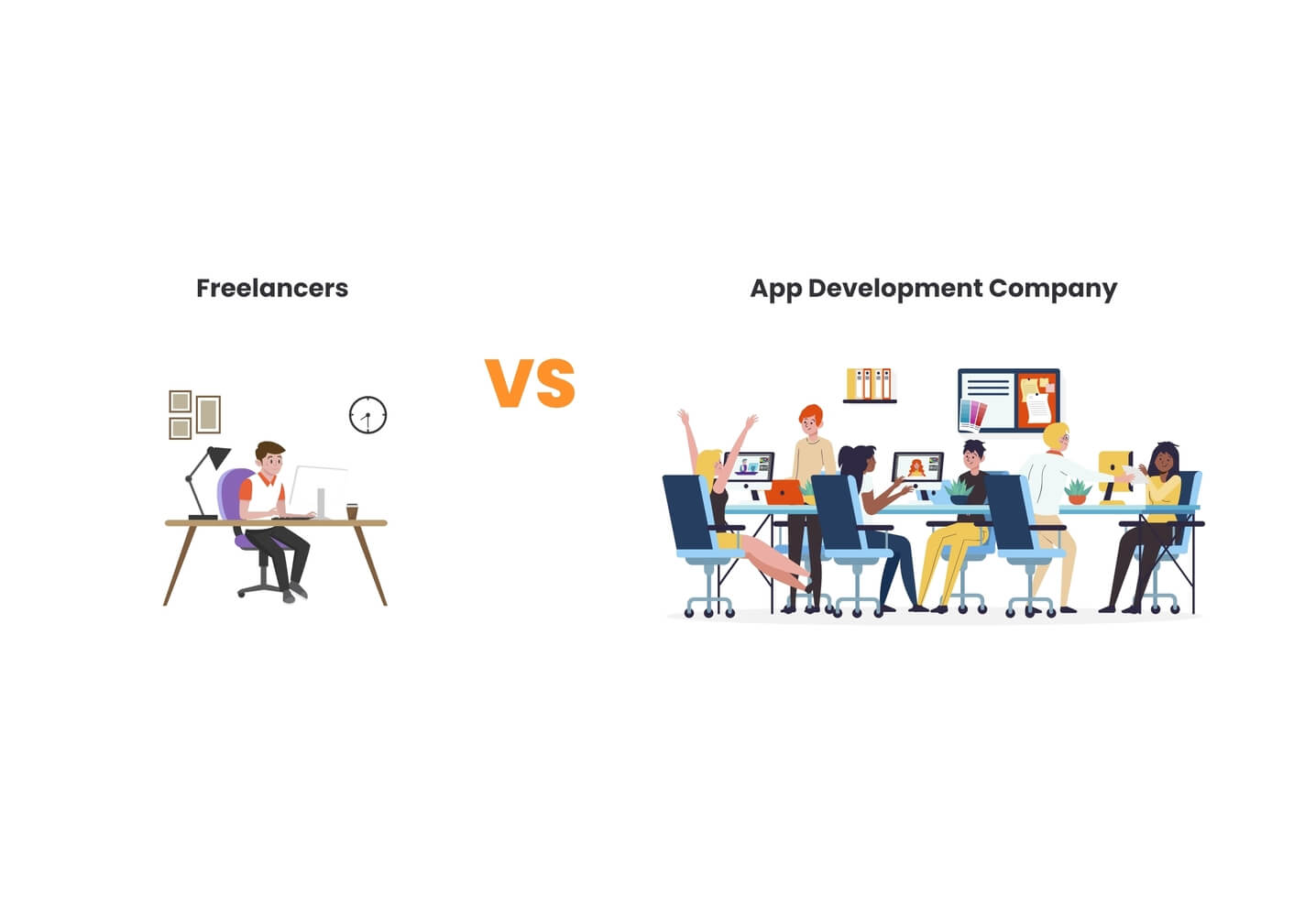 Costs of App Development in Numbers
The pricing will vary depending on what you select. The price structure of these various development choices is based upon several factors. Independent contractors, for example, may be the least costly choice. If you want to spend $10,000 developing your app, you should locate an independent contractor that is ready to take on that task.
This developer, however, may not be the smartest in the industry. Developers with an established track record and greater expertise may demand a higher fee for their services. There is also considerable danger from independent contractors. Because they work for many customers, your app will not be their sole priority. So, you may not receive their best effort.
If you engage a development team, the size of the app development company will also influence the pricing. Well-established development firms may demand much higher fees for their services. And this is because they have teams of developers working on your app project.
These developers are highly qualified and regarded as top-tier talents. So, that's what you'll get if you're prepared to spend $100,000 or more on your mobile app. One advantage of partnering with one of these renowned app companies is having simpler access to their established track record.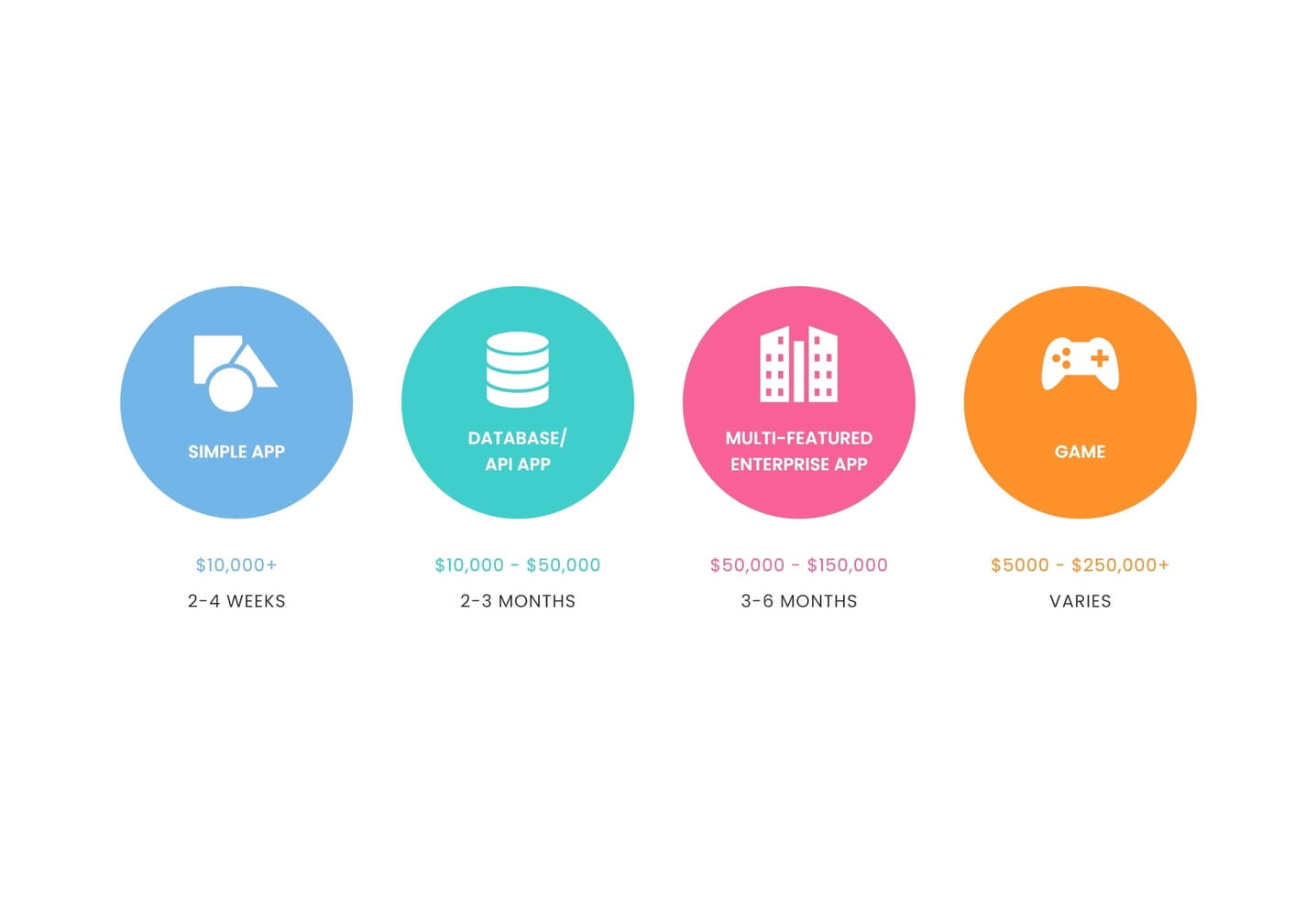 Why Work with Treinetic on Your App Development Project?
To begin with, we have a complete team of UI/UX designers, mentors, and professional engineers to build applications. So, we execute the whole process without relying on other parties. And this means that you can be more sure that a competent team will complete your app development project.
We are also leaders in app development in Sri Lanka. And as an award-winning software product engineering company, we have proof to demonstrate our reliability and competence. To name a few, we have developed many award-winning technical solutions for local customers in the education, film, and entertainment sectors. The National Best e-Content Award in e-Swabhimani 2016 was presented to our product, "Examiner," an online learning platform, by ICTA. In India's 2016 mBillionth award event, it was also a finalist and placed sixth in the South Asian region. The Examiner second edition earned a Merit award at e-Swabhimani 2020. Also, Poth, an e-reading platform, received a Merit award.
Contact us now to discuss your app development project. We are both reliable and reasonably priced.