Why communicate effectively in the workplace in remote settings? During this pandemic, effective workplace communication is essential. And this is because the pandemic has kept us all at home, causing everyone to work in remote locations. Therefore, everyone is looking for ways to enhance workplace communication to keep things running smoothly.
Communicate Effectively in the Workplace — The Importance
Effective communication in the workplace is probably the most essential of all talents and may significantly impact a company's performance. There are three types of effective communication skills: general communication skills, interpersonal communication skills, and written communication skills.
When a message is delivered and received correctly, it is said to be effective communication. However, just because you think you effectively convey ideas and information in your company does not imply you are.
Being an excellent communicator at work is critical for streamlined business operations. And we think investing in great communication tools is one of the best ways to enhance communication within your organization. Good communication helps improve cooperation and project collaboration. It applies to almost every business today.
Workplace communication is also essential for improving internal communication. Having effective communication ensures that management and the workforce are on the same page. And this implies that workers are confident in their job, and supervisors are confident that team members are carrying it out properly.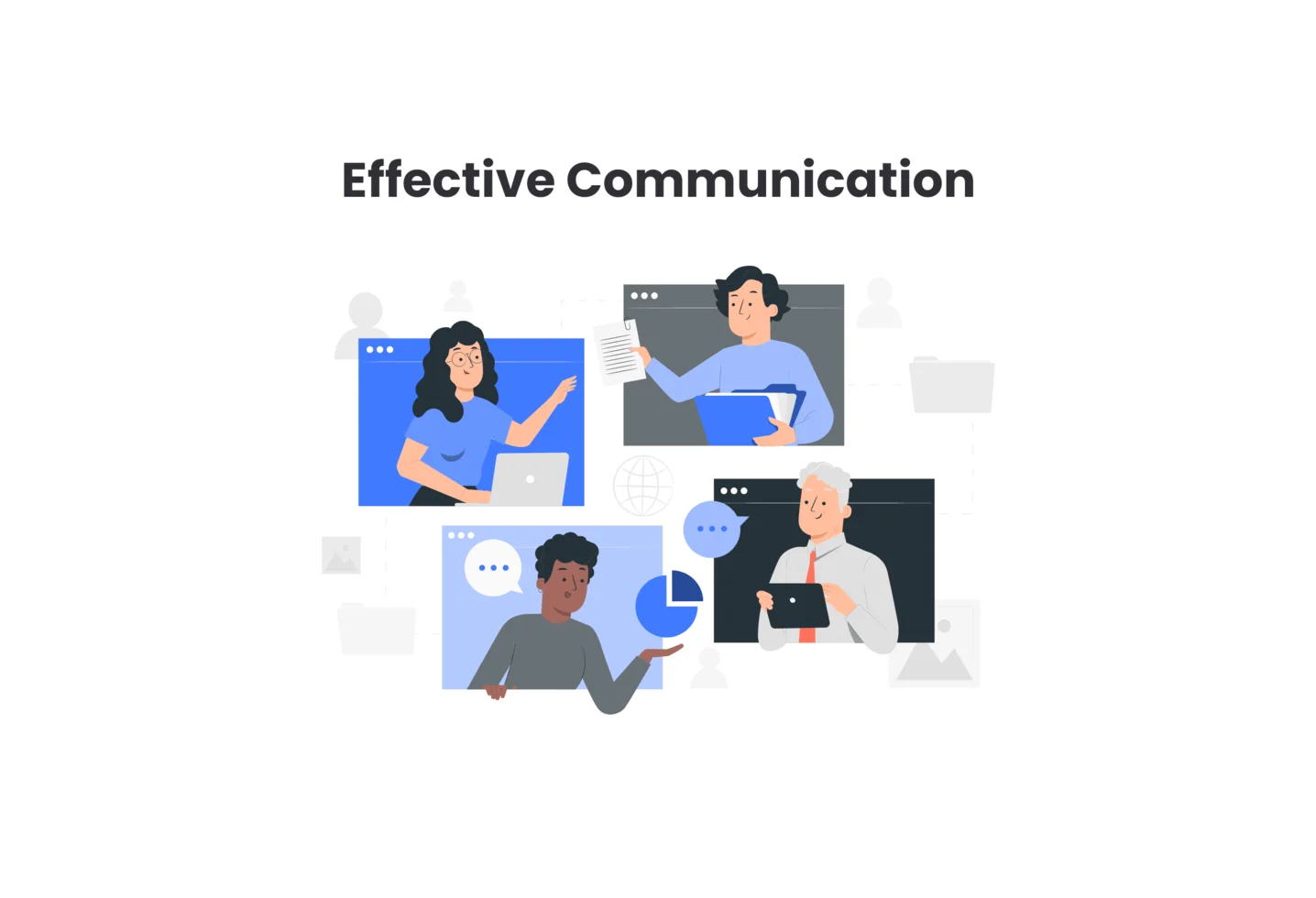 Communicate Effectively in the Workplace — Principles
Effective communication offers clarity, minimizes the chance of errors or misunderstandings, and ensures that workers understand what is expected of them. Here are the 7 Cs of effective communication in the workplace:
1. Concrete
Your audience (team or customers) will have a good picture of what you're attempting to tell them when the information you want to communicate is concrete—not prone to collapse.
2. Coherent
When you are not coherent, the whole purpose of your statement is lost. You must have a solid grasp of what goes where and when.
3. Clarity
The goal of your message should be obvious so that the reader or listener does not have to scratch their heads trying to figure out what you intend.
4. Commitment
Commitment is an important component of professional communication skills. It simply assesses one's commitment and the degree to which one conveys certainty in the argument.
5. Consistency
When speaking at work, the words you pick are important. Your staff should not be perplexed by your remarks. To save time, you should convey your message with as few words as possible while maintaining tone, voice, and content consistency. There isn't any space for reiteration. Make an effort to utilize brief phrases and words.
6. Completeness
Never leave a sentence unfinished. Each message must come to a logical end. People should not be left wondering whether there will be more. Make certain that you communicate completely. And this also involves being informed and taking action.
7. Courteous
Let's keep things upbeat. The other person should be courteous as a result of your conversation. In your conversation, do your best, to be honest, courteous, open, and polite. Say it carefully, and it will be effective and significant. Offensive language may turn people off.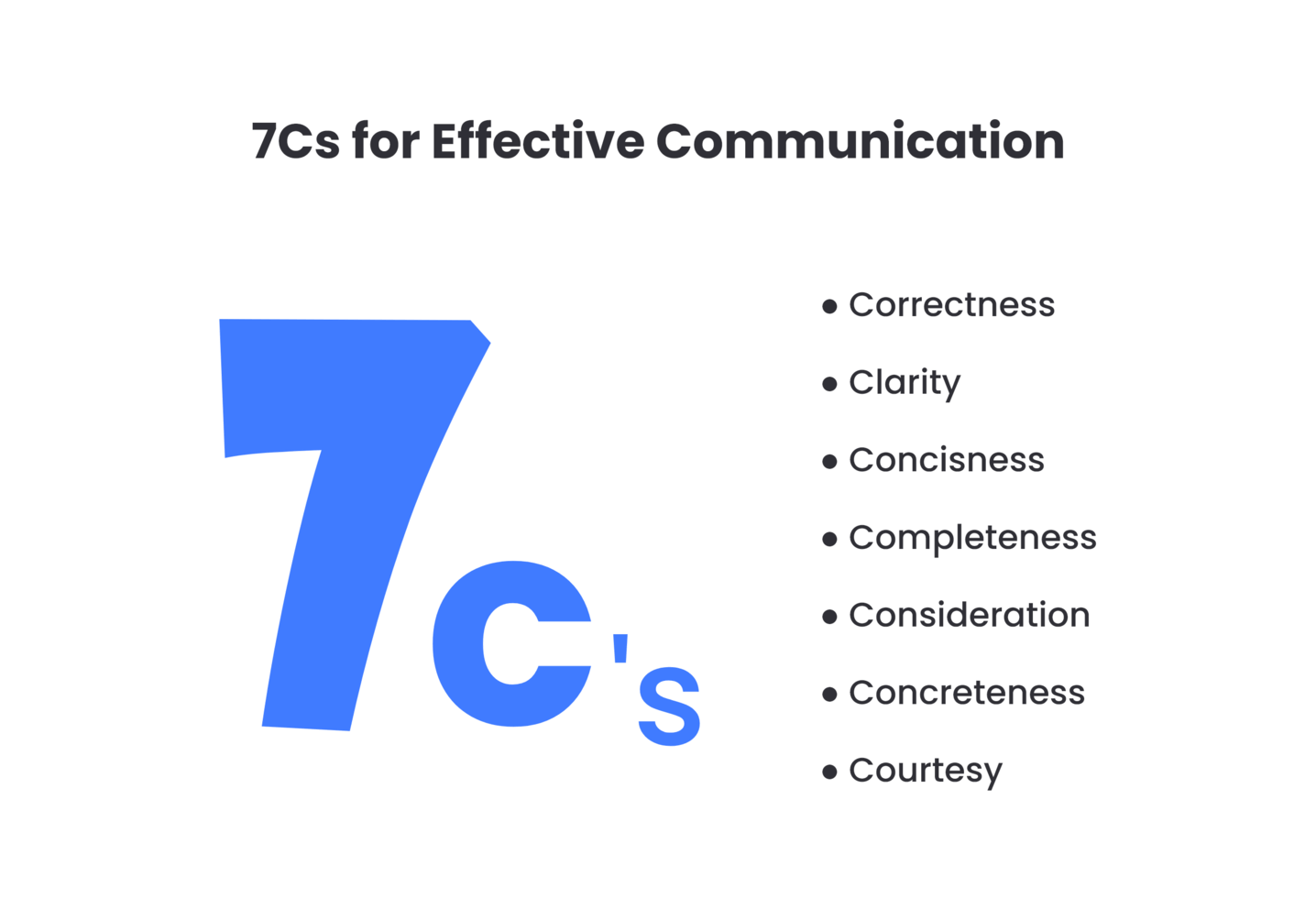 The Keys to Communicating Effectively in the Workplace
1. Tailor your message to your audience.
2. Request feedback on communication from your colleagues, supervisor, and direct reports.
3. Go through active requests: Ask your audience to repeat what you said back to you in their own words.
4. Be proactive in your communication efforts.
5. Read/re-read your emails before sending them to see if you can address any possible follow-up questions in the first email.
6. Assess your own effectiveness using data such as message response rate and other analytics.
7. When it comes to personal comments, be patient and considerate.
8. Practice your presentations.
9. Develop awareness so that you can listen and react as well as talk.
4 Strategies to Improve Workplace Communication
In every company, leadership sets the tone. While enhancing communication may seem difficult, it is doable, and you may effectively lead the way. Begin by using our four workplace communication techniques to enhance understanding, improve the workplace, and build team spirit. As a result of these natural byproducts of effective communication, success will increase.
1. Give Your Undivided Attention
Whether you're in a group meeting or with a single employee, giving your undivided attention to the people you're with can substantially enhance how they see you.
2. Take the Time to Listen
Do not dominate the discussion. People will eventually tune you out, and your message will be lost. Use your words sparingly, avoiding fillers and fluff. Pause after key points to ask questions or check for comprehension.
3. Be Aware of How You're Communicating
Your words only convey a portion of the information to staff members. Body language and tone have a significant impact on the efficacy with which your message is received. When chatting with workers or colleagues, maintain a relaxed posture and facial expression.
4. Inform and Inspire
Communication is a method of exchanging information. When performing your part, it is critical to explain and clarify your views and ideas. However, disseminating knowledge to your team is just half of the issue. Your communication initiatives must inspire as well as inform your staff.
Methods for Communicating Effectively in the Workplace
Many of us work in remote locations these days, where communication speed varies. People may second-guess their messages if they do not get a quick answer or if they do not receive a response. It may cause anxiety and a loss of trust. To communicate effectively, remote teams need a unique mindset, methods, and technologies.
According to Statista, 45 percent of rising technology companies use live chat as a communication tool in 2019. During the study, organizations based in Europe, the Middle East, and Africa reported using an average of 3.56 distinct communication techniques inside the company.
So, how can you overcome obstacles and communicate effectively in the workplace? Here is the correct formula:
1. Make the Switch to Video Calls
This is the most effective way to enhance communication and effectiveness among your remote team members.
2. Never Micromanage or Hover Over People's Shoulders
It's tough to manage remote teams since you can't go up to them and see what they're doing. Some individuals attempt to contact team members many times each day to check on their progress. While it may be acceptable for urgent duties, it is not a smart idea. Even if they work remotely, your team members are responsible adults.
3. Determine Which Tools to Utilize and How to Use Them
There are many tools available for managing a remote workgroup. It's easy to get carried away and end up with too many tools. You may wind up with a befuddling collection of tools that your staff is unsure how and when to utilize.
Many of them have features and functions that overlap. For example, both Slack and Zoom may be used to conduct video calls. If you have both, which one should you use for video calls? Therefore, it is critical that you carefully pick a set of tools and specify how to utilize them.
4. Don't Overlook One-to-One Text Communications
Someone who does not feel comfortable standing up at a team meeting may approach you in an office to express his thoughts. However, doing so in a virtual environment is difficult. They need to be allowed to talk about it one-on-one.
In a remote team, the easiest approach is to utilize messaging technologies that enable individuals to interact outside of the group. It might be Slack, WhatsApp, or another service.
5. Use Virtual Team-Building Activities
Loneliness is probably the most serious issue that remote employees face. It may lead to employee disengagement, decreased performance/productivity, and possibly staff churn. Loneliness may also drive some people to take drastic measures.
The only way to overcome loneliness is for team members to form personal and social connections. Team members may communicate more effectively, discuss concerns, and discover solutions to problems before they grow too large by interacting with others.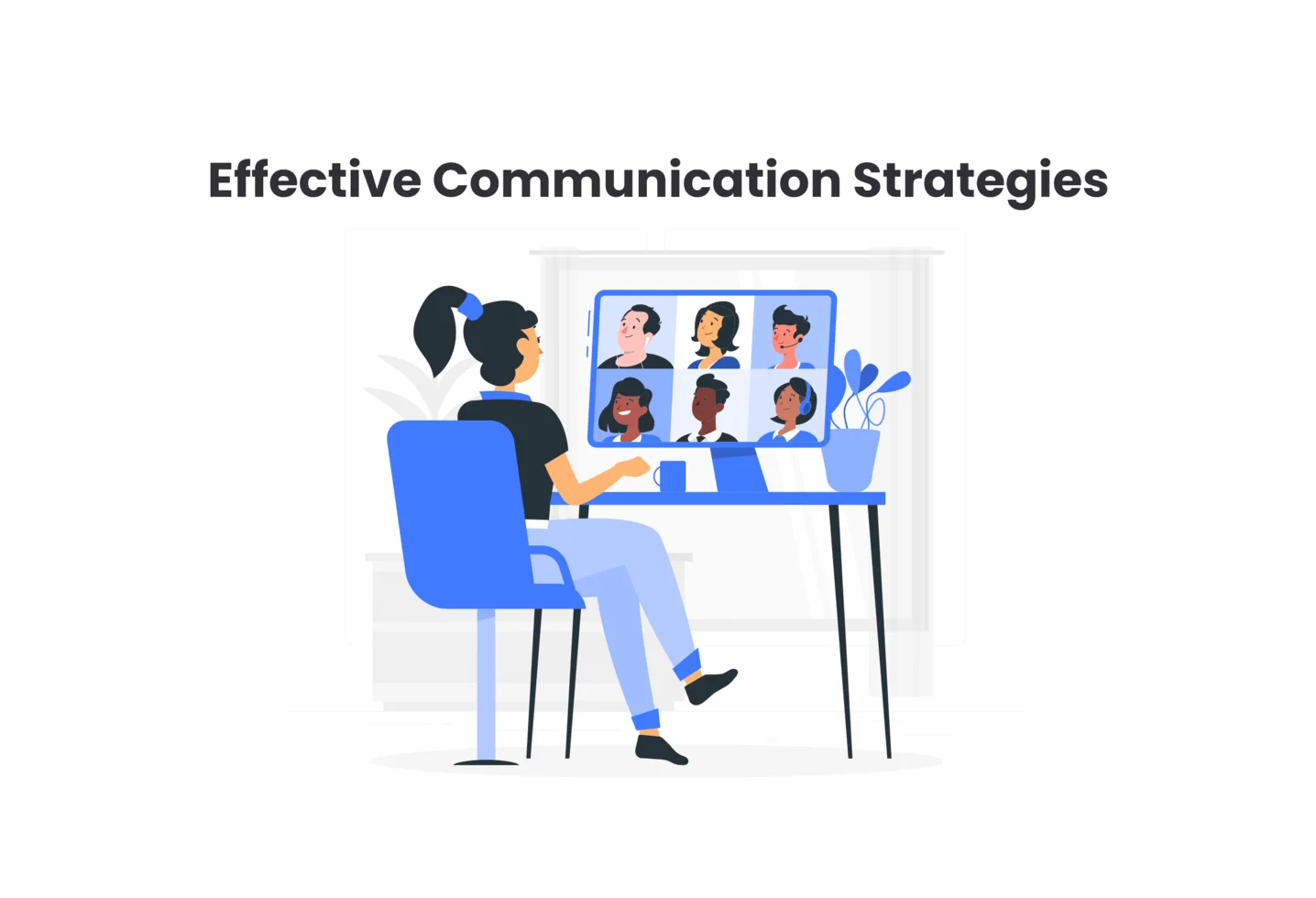 How Do We at Treinetic Communicate Effectively in the Workplace?
Communication is the most important and difficult component of a successful remote collaboration. A remote team's communication requirements are distinct. Nevertheless, there is no such thing as a magic method. These days, we also work in remote settings and practices. Despite this, we continue to provide world-class consistent services to local and international customers due to the described communication principles and methods.